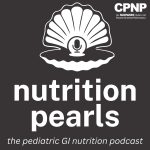 Nutrition Pearls: The Pediatric GI Nutrition Podcast is an enlightening podcast brought to you by The NASPGHAN Council for Pediatric Nutrition Professionals. Join us as we dive into the fascinating world of pediatric nutrition, featuring insightful discussions led by expert pediatric GI registered dietitians.
Each episode of Nutrition Pearls is packed with valuable information on a range of topics, including medical nutrition therapy for various diseases as well as non-clinical professional interests. Whether you're a beginner or an experienced professional in the field, our podcast offers a wealth of knowledge to enhance your expertise and broaden your perspective.
New episodes are released on the 3rd Wednesday of every month, with occasional bonus episodes sprinkled in for your listening pleasure. Make sure to subscribe on Apple Podcasts, Spotify, Google Podcasts, or your preferred podcast platform, so you never miss out on the latest content.
We value your input and encourage your active participation. If you have suggestions for topics or guests, or simply want to share your thoughts on the podcast, we would love to hear from you. Please reach out to us at cpnp@naspghan.org or via CPNP Facebook, Instagram or Twitter to connect with our team.
We want to emphasize that the discussion, views, and recommendations presented in Nutrition Pearls are the sole responsibility of our hosts and guests. As the field of pediatric nutrition continues to evolve, it's important to note that these perspectives may change over time with advances in research and medical understanding.
Thank you for joining us on this educational journey. We appreciate your listenership and look forward to bringing you more valuable insights on pediatric nutrition. Stay tuned and keep exploring the ever-evolving world of pediatric nutrition!