2021 NASPGHAN/CPNP/APGNN Annual Meeting 
The NASPGHAN/CPNP/APGNN Annual Meeting & Postgraduate Course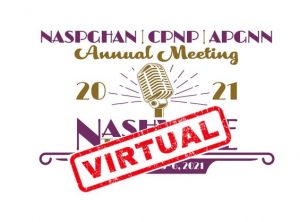 Dear Colleagues,
Thank you all for your survey participation ( https://tinyurl.com/NASPGHANAnnualMeetingFAQ). After careful consideration of your responses and regional Covid-19 data (https://www.nytimes.com/interactive/2021/us/tennessee-covid-cases.html), it has been determined that the NASPGHAN Annual Meeting will be held as a virtual course over the week of December 12-18, 2021. This was not an easy decision, but in the end, it represents the consensus of several different peer advisory groups and has been unanimously supported by Council.
Details regarding the December virtual meeting (including session/speaking times, registration instructions, how hotel reservations will be canceled, etc.) will be forthcoming in the next week or so, but it feels prudent to let you all know this decision as soon as possible.  Please check the FAQ sheet (https://tinyurl.com/NASPGHANAnnualMeetingFAQ) for any questions you may have, as this will help ease the burden on the NASPGHAN National Office, which is now working hard to make this as smooth a transition as possible.
Finally, we also wish to make sure that everyone is aware of the wonderful 3rd Year Fellows Course that was successfully and safely held in Coral Gables, Florida this month, September 3-5, 2021 (https://tinyurl.com/3rdyearconferencepictures), and to reassure you all that we do believe that smaller and regional NASPGHAN in-person meetings, including the Fellows Courses, may be possible as we move into 2022.
With great respect for you all -
NASPGHAN Council
#NASPGHAN21