2023 NASPGHAN/CPNP/APGNN Annual Meeting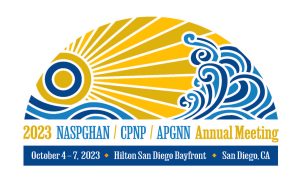 The NASPGHAN/CPNP/APGNN Annual Meeting & Postgraduate Course
Abstract Submissions are now closed.
Application Deadline was: June 1, 2023, 11:59 PM Eastern Time
Abstract Announcements Will Go Out Late July/Early August.

Save the date for the 2023 NASPGHAN/CPNP/APGNN Annual Meeting to be held October 4-7, 2023 at the Hilton San Diego Bayfront in San Diego, California. Make sure to make plans to attend all three meetings that week:
Wednesday, October 4 :Single Topic Symposium - Polyps Matter: Pediatric Polyposis and GI Cancer Syndromes
Thursday, October 5: Postgraduate Course
Thursday, October 5 - Saturday October 7: NASPGHAN/CPNP/APGNN Annual Meeting
Make sure to add this to you calendar and plan to stay for the closing event the night of Saturday, October 7th. Lot's of surprises to come.
Click this link to go to the event landing page and see updates as they are added.
Future Annual Meeting Dates and Locations
2024 NASPGHAN Postgraduate Course and Annual Meeting
November 6-9, 2024
The Diplomat Beach Hotel, Hollywood, FL
2025 NASPGHAN Postgraduate Course and Annual Meeting
November 5-8, 2025
Sheraton Grand Chicago, Chicago, IL
2026 NASPGHAN Postgraduate Course and Annual Meeting
October 21-24, 2026
Marriott Marquis San Diego Marina, San Diego, CA
2027 NASPGHAN Postgraduate Course and Annual Meeting
November 2-6, 2027
Gaylord Opryland Resort & Convention Center, Nashville, TN