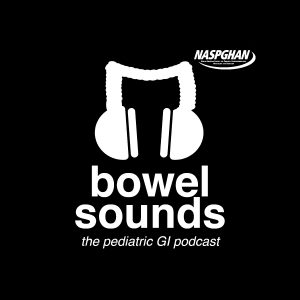 Bowel Sounds: The Pediatric GI Podcast
Bowel Sounds is a podcast on all things related to pediatric gastroenterology, hepatology, and nutrition. This podcast is brought to you by the North American Society for Pediatric Gastroenterology, Hepatology, and Nutrition (NASPGHAN).
Listen and subscribe now on Apple Podcasts, Spotify, Google Podcasts, or wherever else you listen to podcasts.
You can also listen on our website: http://naspghan.buzzsprout.com.  Email us at bowelsounds@naspghan.org with feedback and topic or guest suggestions. Be sure to follow @BowelSounds on Twitter for updates too.
As always, the discussion, views, and recommendations in this podcast are the sole responsibility of the hosts and guests and are subject to change over time with advances in the field.
As always, let us know what you think!