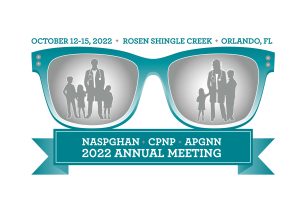 Abstract Submission Information
The Application site is now open! https://naspghan2022.abstractcentral.com/
Application Deadline: June 2, 2022, 11:59 PM Eastern Time
The North American Society for Pediatric Gastroenterology, Hepatology and Nutrition NASPGHAN, the Association of Pediatric Gastroenterology and Nutrition Nurses, APGNN, and the NASPGHAN Council for Pediatric Nutrition Professionals, CPNP, are now accepting scientific abstracts and clinical vignettes for presentation at their Annual Meeting, November 4-6, 2021. All submissions must be completed electronically by clicking on the "Submission" tab in the upper left corner. A $55 submission fee for each abstract/clinical vignette will be assessed. APGNN and CPNP abstracts may be submitted at no charge. Abstracts and clinical vignettes will be competitively reviewed and presented as follows:
Scientific abstracts may be selected for oral or poster presentation and will be published in the Journal of Pediatric Gastroenterology and Nutrition.
Clinical vignettes will be presented in poster format and will not be published.
Video Abstracts will be selected for oral presentation.
APGNN abstracts will be presented in poster format and will be published.
CPNP abstracts will be presented in poster format and will be published.
Abstracts that will be considered include:
Original work that has never been presented
Abstracts submitted to other scientific meetings (i.e., DDW, AASLD, ACG, CCFA, ANGM) in the last 12 months
Abstracts submitted to local/regional meetings in any calendar year
Abstracts describing work that has been submitted as a manuscript or accepted as a manuscript for publication at the time of submission, but not yet published in a print edition of a journal may be submitted.
Clinical Case Reports and small case series should only be submitted to the Clinical Vignettes section. They will be rejected if submitted to the Scientific Abstract Section.